FUSION MARTIAL ARTS CENTRE Ltd
KICKBOXING | MMA | BJJ | ONLINE WORKOUTS
Online Kickboxing Workouts
The Fusion Martial Arts Centre offers world-class instruction in Kickboxing, Mixed Martial Arts/MMA, and Brazilian Jiu-Jitsu/BJJ to the communities of Bradford, Bingley, and the surrounding areas of West Yorkshire. We provide top-quality facilities to cater for kids and adults of all experience levels, and classes run throughout the week. We welcome individuals with no prior experience or high level of fitness to join us.
Our team of exceptionally experienced instructors is fully insured and prides themselves on being friendly, approachable, and professional. We strive to create a welcoming and inclusive environment for all our students, where they can learn and grow in their chosen martial arts discipline.
Our ethos is centered around ensuring that every student leaves the class feeling better than when they arrived, and this is achieved in a number of ways. Our positive and welcoming atmosphere is essential for the younger classes, where children not only learn and develop but also leave with a smile on their face. For adult classes, we encourage leaving egos and life's problems at the door and expect students to leave feeling alive after the more intense sessions.
We prioritize discipline and respect throughout all our sessions, and students can expect to frequently bow and address our Black Belts as 'Sensei' (teacher). These values are integral to our teaching philosophy and help students cultivate not just physical skills but also mental fortitude and personal growth.
ONLINE KICKBOXING WORKOUTS
If attending Kickboxing classes isn't possible due to a busy lifestyle or if you prefer working out from home, the Fusion Martial Arts Centre has the perfect solution. Our unique online subscription channel is designed for beginners who want to learn kickboxing from the comfort of their own living room, as well as intermediate and advanced students who wish to practice further outside of the gym.
Our online video library offers a wide range of options, allowing you to build a workout that suits your ability, energy level, and time frame. Additionally, parent-guided lessons are available for children, allowing the whole family to benefit from our online resources.
We understand the importance of maintaining a consistent exercise routine, and our online subscription channel is an excellent option for those who are unable to attend classes in person. With the Fusion Martial Arts Centre, you can access top-quality instruction and resources from the convenience of your own home.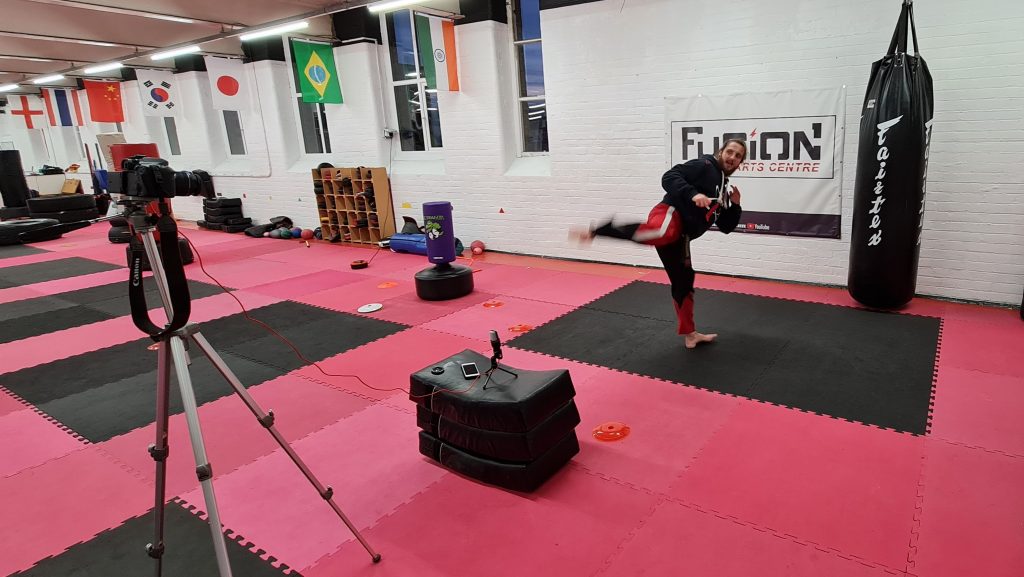 MARTIAL ARTS TRAINING BENEFITS
Martial arts offers full-body workouts and teaches self-defense, promoting safety and confidence. It also improves mental focus, discipline, and resilience, reducing stress and anxiety. Martial arts suits all ages and fitness levels and is a great way to achieve goals and improve well-being.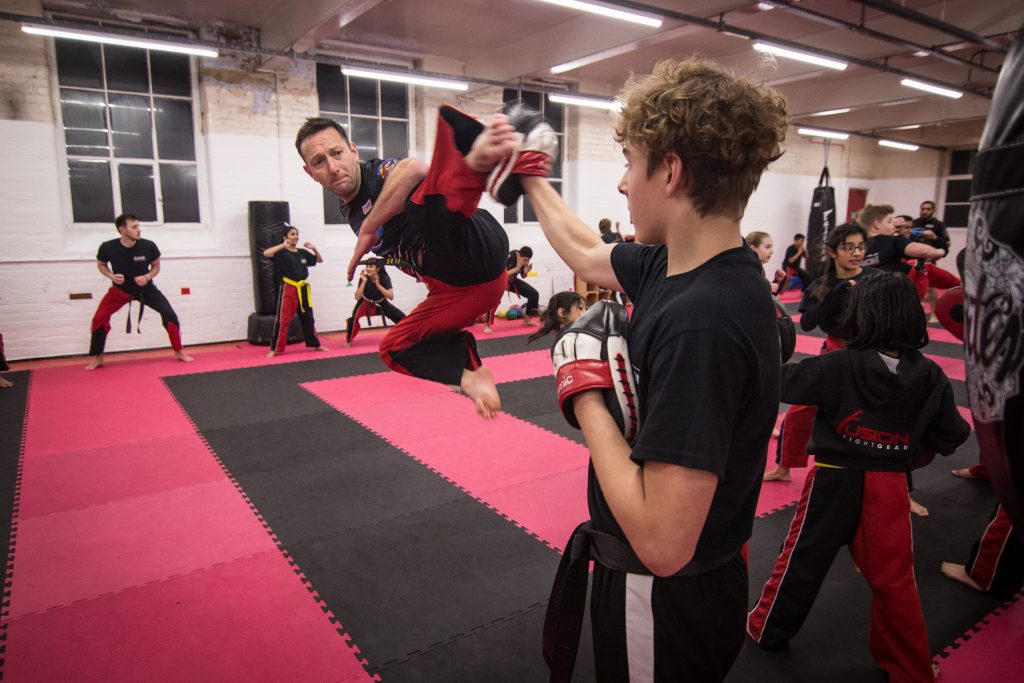 Training sessions will typically involve:
Warm up/Circuits – For strength and conditioning
Stretching – Improving flexibility and movement
Pad drills – Increased speed, precision and power
Bag Work – Timing and coordination
Basics  – Perfecting techniques
Rolling/Grappling – Freestyle sparring on the ground
Partner drills – Practice distance and control
Sparring/Rolling – Stand Up or on the ground
The Fusion Martial Arts Centre offers a thrilling and dynamic training experience, blending techniques from kickboxing, Brazilian Jiu-Jitsu, and Submission Grappling. Our unique combination of styles helps students become competent in the arena and confident in life, while challenging them both physically and mentally. Our expert instructors guide you through a range of training programs, mastering powerful strikes and kicks, and honing your grappling and submission techniques. Whether your aim is to improve fitness, build self-confidence or just have fun, Fusion Martial Arts Centre has everything you need to achieve your goals and unleash your full potential.
Kickboxing is a dynamic and explosive martial art that involves two opponents scoring points with various kicks and punches. At Fusion Martial Arts Centre, experienced instructors offer high-quality kickboxing classes for beginners and experienced martial artists alike, helping students achieve their goals and improve their skills. Kickboxing is also commonly used in MMA, often combined with takedowns and ground-based styles like Brazilian Ju-Jitsu.
BRAZILIAN JIU JITSU - BJJ
Looking to improve your physical and mental well-being while learning a new skill? Consider Brazilian Jiu Jitsu (BJJ)! BJJ offers a full-body workout that improves strength, posture, and cardiovascular fitness while also enhancing mental focus, discipline, and confidence. At Fusion Martial Arts Centre in Bradford, our experienced instructors and supportive community can help you achieve your goals, no matter your level of experience.
Mixed Martial Arts, commonly known as MMA, is the fastest-growing sport in the world. It's important not to confuse MMA with the label 'UFC' (Ultimate Fighting Championships), as the organization is responsible for broadcasting some of the main headline MMA fights. MMA combines a variety of techniques from different styles, with fighters using forms of striking such as Kickboxing, K1 or Muay Thai, and taking down opponents with Judo or wrestling techniques, before progressing to the ground and submitting opponents with Jiu-Jitsu or BJJ (Brazilian Jiu-Jitsu) submissions. Bouts typically take place within a cage.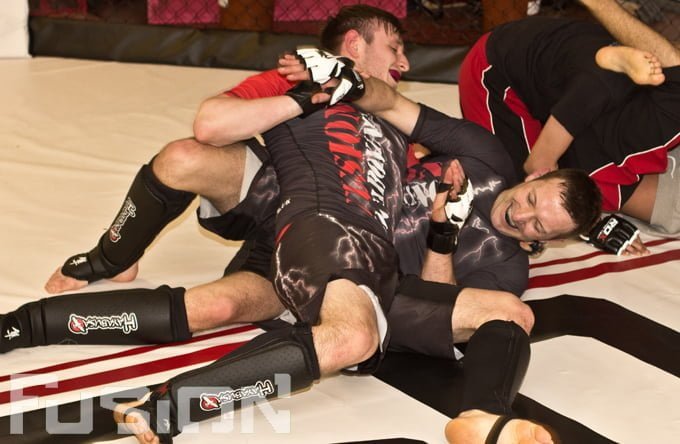 On the 20th December 2019, the First Direct Arena hosted a fantastic White Collar Boxing event in aid of the Firefighters Charity, with Fusion instructors playing a vital role in both training and coaching boxers that competed in the event. The 'Firefight' event was a complete success, and further events have been planned. Although the Fusion MAC is not primarily a boxing gym, the intention is to continue teaching and coaching boxing. Therefore, please CONTACT US to express an interest in coaching at our centre.