FUSION MARTIAL ARTS CENTRE Ltd
KICKBOXING | MIXED MARTIAL ARTS | ONLINE WORKOUTS
Online Kickboxing Workouts
The Fusion Martial Arts Centre provides top quality facilities and world class instruction of Kickboxing, Mixed Martial Arts/ MMA and Brazilian Ju-Jitsu/ BJJ to Bradford, Bingley and the surrounding areas of West Yorkshire. 
Classes cater for kids and adults of all experience levels and run most days of the week. No prior experience is needed nor are you expected to be fit before you join. 
All of the instructors are experienced and fully insured. In addition, they pride themselves on being friendly, approachable and behaving in a professional manner.
The Fusion Martial Arts Centre ethos is that everyone should leave the class feeling better than when they arrived. This can be achieved in a number of ways. The atmosphere around the Fusion Martial Arts Centre is positive and happy, especially for the children's classes. They can learn and develop during classes but most of all, leave with a smile on their face. Adults classes are a little more intense so leave your ego and life's problems at the door. Expect to leave feeling alive!
Discipline and respect are practised throughout all the sessions so expect to bow frequently and call the Black Belts 'Sensei' (teacher).
ONLINE KICKBOXING WORKOUTS
Do you enjoy working out from home or perhaps have a lifestyle that rules out attending Kickboxing classes?
The Fusion Martial Arts Centres' unique online subscription channel is the perfect solution for beginners to learn kickboxing from the comfort of their own living room or intermediate/advanced students to practice whilst attending the gym.
With an extensive online video library to chose from. You can build your workout to suit your ability, energy and time frame. In addition, children can also benefit from parent guided lessons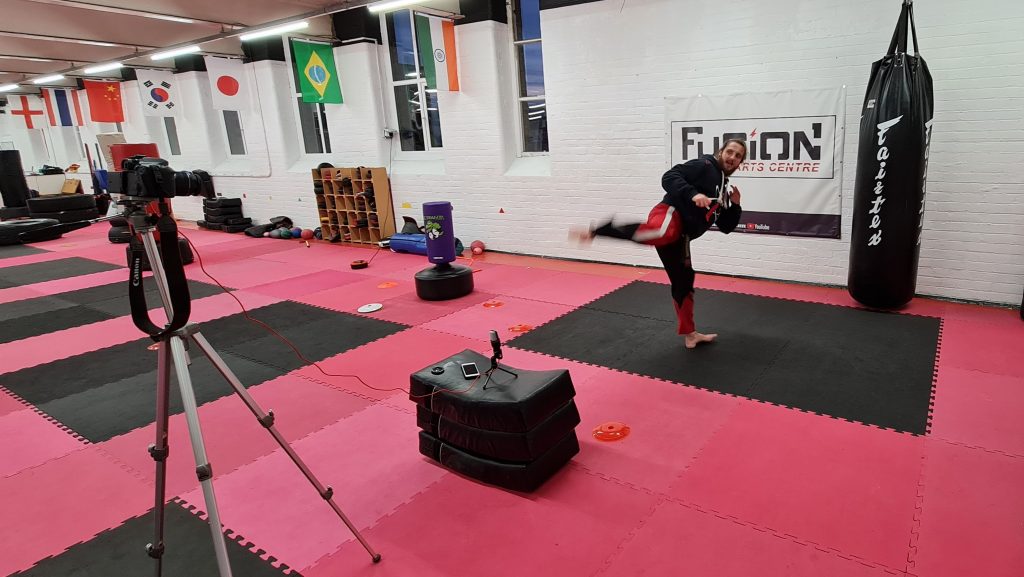 MARTIAL ARTS TRAINING BENEFITS
There are a number of reasons why a person might choose to take up a martial art; to keep fit, to compete, for grading's or for self defence/anti bullying are to name but a few. Furthermore, it has been proven to help with weight loss, improving balance, flexibility and strength. As a result, you can expect your confidence, motivation and concentration to grow too.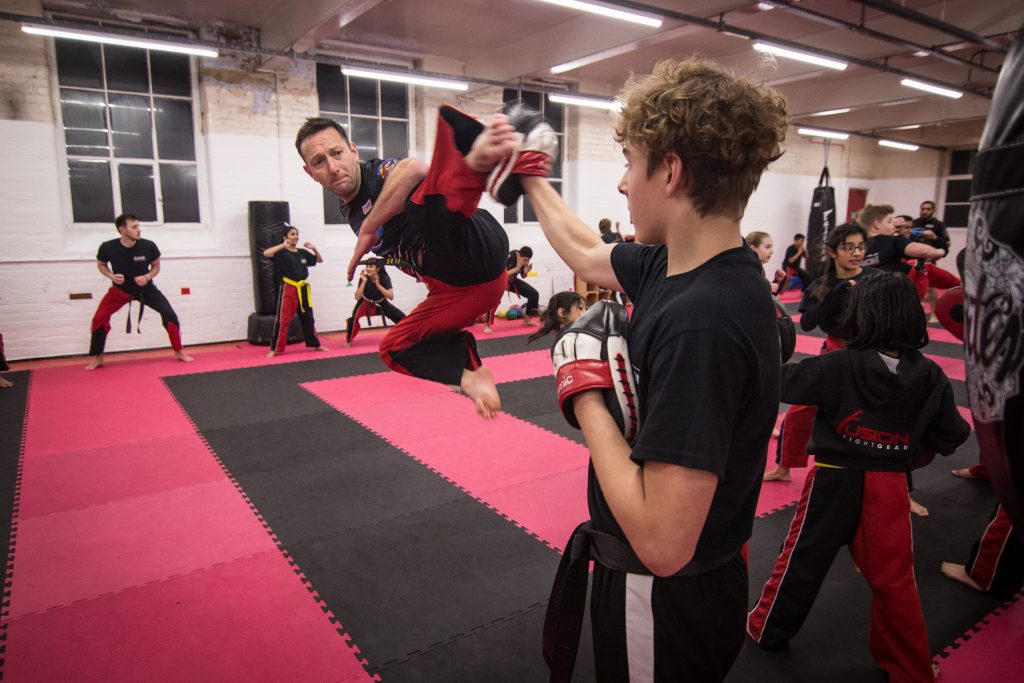 With so many styles to choose from, it's no surprise that no two lessons are ever the same. The Fusion MAC syllabus has been designed to incorporate some of the most effective techniques taken from a variety of Martial Arts styles, Kickboxing being the foremost. With the addition of BJJ and Submission Grappling. Hence, this combination has helped develop students to become competent in the arenas and more importantly, confident on the streets.
Training will almost always be high intensity and involve:
Warm up/Circuits – For strength and conditioning
Stretching – Improving flexibility and movement
Focus pad drills – Increased speed and precision
Kick shields – Developing power
Bag Work – Timing and coordination
Basics  – Perfecting techniques
Partner drills and sparring – Putting all of the above into practice!
STYLES INCLUDED IN OUR SYLLABUS
Kickboxing is an explosive sport which involves two opponents attempting to score points using a variety of kicking and punching techniques on each other. There are many styles and each can be influenced by an number of factors.
FREESTYLE KICKBOXING
A competition sport and the main kickboxing style practiced at the Fusion MAC. Freestyle Kickboxing follows semi-contact and light contact rules with bouts taking place on a matted floor. Light contact rules will feature a continuous fight over a selected number of rounds. Semi-contact (points fighting) will require the fight to be paused after every successful technique and then restart once the fighters are back in positon. The winner will be declared in the same way for both styles that is by landing more successful, controlled techniques on your opponent throughout the rounds.
A top fighter can expect to encounter multiple opponents in succession if he/she continues to win during a tournament.
FULL CONTACT or K1
Using similar techniques as Freestyle Kickboxing without the restriction of power. Less padding is also worn by the fighters and bouts are now fought in a ring or cage. Bouts are limited to just one opponent however, the number of rounds will increase. The fight can be won by a knock out or from the judges score a the end of the fight.
Kickboxing will most likely be used in Mixed Martial Arts too. Combined with takedowns and ground based styles such as Brazilian Ju-Jitsu.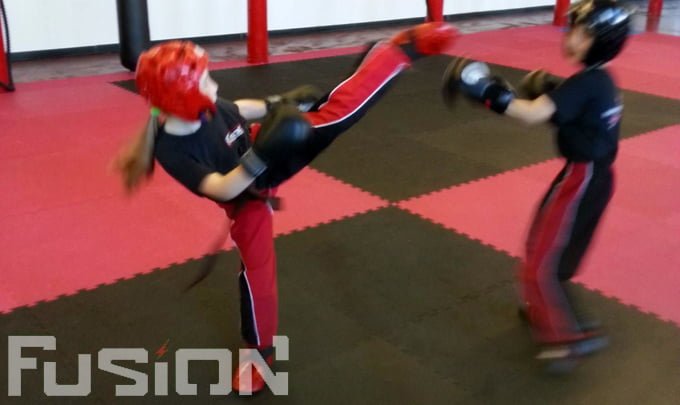 Mixed Martial Arts or MMA as it is more commonly known, has become the fastest growing sport in the world.  Not to be confused with the label 'UFC' (Ultimate Fighting Championships) as this is the organisation responsible for broadcasting some of the main headline MMA fights. 
As the name suggests, Mixed Martial Arts combines a variety of techniques from a number of different styles. Kickboxing, K1 or Muay Thai may be used as a form of striking. However, fighters can soon find themselves 'taking down' their opponent with Judo or wrestling techniques thus looking to progress on the ground and finally submit their opponent using Ju-Jitsu or BJJ (Brazilian Ju-Jitsu) submissions. Bouts are usually fought within a cage.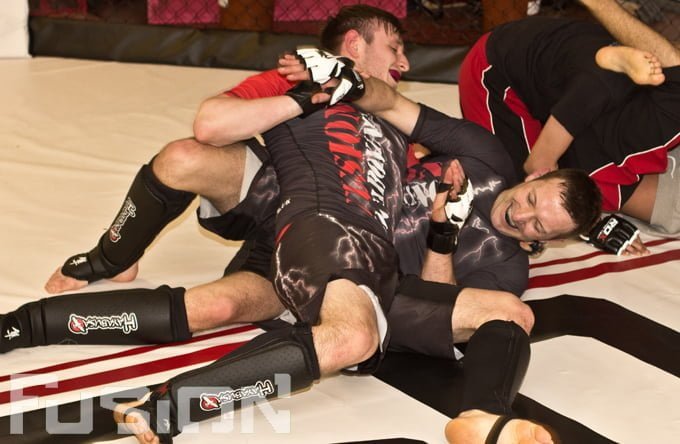 On the 20th December 2019 the First Direct Arena hosted a fantastic White Collar Boxing event in aid of the Firefighters Charity. Fusion instructors played a vital role in both training and coaching boxers that competed in the event. 
The 'Firefight' event was a complete sucess. Therefore further events have been planned. Whilst the Fusion MAC is not primarily a boxing gym, the intention is to continue teaching and coaching boxing.
Please CLICK ON THE LINK or SHARE if you or someone you know might be interested and complete the contact form.